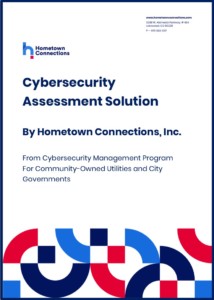 Cyber-crime is on the rise. Your first line of defense is to know your vulnerabilities. Turn to the Cybersecurity Assessment Solution from Hometown Connections, Inc. It's the affordable, preliminary step in effective cybersecurity management
Step One for Effective Cybersecurity Management
The Cybersecurity Assessment from Hometown Connections identifies cyber vulnerabilities and designs a detailed cyber defense program based on industry standards and best practices.
Snapshot of Security Posture
Hometown Connections works with utility personnel and their third-party providers onsite at the utility/municipality or remotely to create a cybersecurity snapshot. Then, Hometown delivers:
Cybersecurity profile benchmarked with other public power utilities
Report on adherence to guidelines from the Center for Internet Security and results of the Cybersecurity Scorecard of the American Public Power Association
List of vulnerabilities and exposures
Roadmap and budget estimates for remediation priorities
Results from phishing/cyber awareness exercise
Report and presentation to be shared with leadership
Pricing Designed for All of Public Power
The pricing for the Cybersecurity Assessment is scalable, starting at $7,500. Pricing ties to the staffing, infrastructure, and network footprints of the utility or city.
The Risk of No Assessment
It's too dangerous not to bring in an expert, independent third party to evaluate your cyber defenses:
Attempts by bad actors to compromise critical infrastructure systems and services are up significantly.
Cyber criminals are trying to gain access to your customer and employee data by sending your staff "phishing" attacks that lure them to click on malicious links.
Too many community-owned utilities and municipalities like yours are victims of ransomware attacks that cause major business interruption losses and upset customers.
Power generation and distribution systems can be shut down when information and operations technology systems are hit.
Malicious malware is finding its way into the industrial control systems, damaging substations and causing blackouts.
Through the Hometown Connections Cybersecurity Assessment, you will educate all of your employees and governing board members on the cyber threats your organization may face, where those threats might take place, and how those threats can potentially impact your operations. You will receive a detailed plan and budget estimate for building and maintaining an effective cyber defense.
Comprehensive, Cost-Effective, Single Resource
The Cybersecurity Assessment is one feature of the Hometown Connections Cybersecurity Management Program. Hometown is offering a comprehensive and cost-effective portfolio of cybersecurity solutions and a network of providers able to serve as a single resource for the cybersecurity needs of community-owned utilities and city governments.
Includes AESI and Marsh Wortham
Hometown Connections is continuing its marketing alliance with AESI-US, Inc. and Marsh Wortham Power Gen Insurance which provide cybersecurity services as part of the Hometown Connections Cybersecurity Management Program.
Learn More
See this article for details on Hometown's Cybersecurity Management Program and to download a brochure on the Cybersecurity Assessment Solution.
For more information on the cybersecurity products and services available through Hometown Connections, send an email to info@hometownconnections.com.