Smart Solutions for Smart Utilities

SpryPoint provides our customers the first true enterprise SaaS platform for electric, water, gas, and telecom utilities.  We give utilities the tools they need to provide top-tier customer service while improving operational efficiency and enabling a world of cutting-edge capabilities. We make the world a better place for utility operators, municipalities, and customers all over North America. SpryPoint provides Smart Solutions for Smart Utilities. SpryPoint's platform includes the following applications:·
SpryCIS – Customer Information System
SpryEngage – Customer Engagement Platform
SpryMobile – Mobile Field Service / Work Orders & Asset Management
SpryBackflow- Cross Connection Control
SpryFiber – Broadband Demand Aggregation
SpryGIDR – Grid Interactive Demand Response.
SpryIDM – Interval Data Management
Mobile Field Service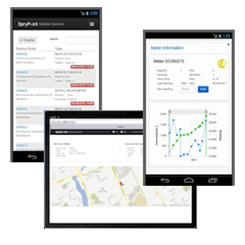 In today's environment, utilities of all sizes need to streamline and automate their processes. Fortunately for utilities, technology has advanced rapidly and provides opportunities to respond to these challenges more efficiently and cost-effectively.
Mobile enablement has enabled utilities to concentrate their efforts in the field, allowing them to serve customers more rapidly and efficiently. While the cost of mobile enabling your field service operation has dropped over the last few years, many utilities still rely on pen and paper in the field. Lower cost, technological advances, and integration make mobile, enabling your field service team a compelling opportunity.
Work Orders & Asset Management
SpryPoint believes that a robust asset management strategy is at the core of operational effectiveness for utilities. Our approach focuses on centralized work oversight and the generation of corrective work activities when certain conditions are met. Flexible asset configuration allows you to easily develop maintenance schedules specific to individual assets or groups of assets. Whether it be ad-hoc, preventive or corrective work orders, SpryMobile is a work order and asset management platform built for utilities to streamline your business processes and provide your technicians with access to real time data in the field.