In 2018, American Municipal Power, Inc. (AMP) looked closely at industry changes impacting the joint action agency and its members. The forecasted increase of PJM's capacity and transmission charges throughout the AMP footprint were of chief concern. PJM is the regional transmission organization (RTO) that coordinates the movement of wholesale electricity throughout 13 midwestern and eastern states, including the majority of AMP members. To help members offset these cost increases, AMP developed a behind the meter peaking project. The first phase of the project is integrating PowerSecure generation systems into 14 member utilities in Ohio and Pennsylvania, providing benefits to a total of 27 communities.
AMP/PowerSecure Project Offsets Capacity & Transmission Costs
Provides Emergency Backup Power
In PJM, capacity charges are based on a utility's peak demand during the five highest peak hours during the summer months. Transmission charges cover the cost to deliver electricity from power-generating facilities to the utility's electric substations and to the beginning of the utility's distribution system. Transmission charges are based on a utility's peak demand during the single highest peak hour of the year.
"Concerned about the long-term financial impact of increasing capacity and transmission costs on our membership, AMP explored options for building new generation capacity as a hedge against these rising costs," said Paul Beckhusen, AMP's Senior Vice President of Power Supply & Energy Marketing. "We evaluated generation construction projects large and small, electing to pursue a behind-the-meter investment utilizing the PowerSecure modular generation units."
AMP engaged PowerSecure for an all-inclusive, fixed-price project to site, install, and maintain its Tier 4 Final PowerBlock distributed generation systems. The primary purpose of the Behind the Meter Peaking Project is to provide generation operated during PJM's annual peak hours in order to reduce transmission and installed capacity demands. The units will also be available to operate during hours when market prices are higher than the operating costs of the generators, as well as to provide emergency backup power if the grid goes down. AMP estimates the units will operate approximately 50 hours annually.
AMP owns the PowerSecure systems, finances their construction, and dispatches the resources. AMP evaluates members' systems and power profiles to see if their potential construction sites and power supply requirements make them suitable for the program. When qualified members sign on, PowerSecure prepares the sites, designs the installation, manages construction, and maintains and remotely monitors the units.
Resiliency & Return On Investment
"PowerSecure being able to provide a true turnkey solution is very important to us," Paul Beckhusen said. "Their ability to provide operational and maintenance support, as well as the fixed cost format, enables us to project future costs and return on investment."
The cost and financial benefits for the participating AMP members are based on their share of the total project. Currently, the project divides approximately 70 MW of total generating capacity among participating members. The project encompasses 14 sites operating 29 PowerSecure PowerBlock generation systems. If, for example, one utility requires 7 MW of capacity, it pays 10% of the project costs and receives an equal amount of the financial savings from the peak shaving operations.
The program is currently in Phase 1, serving AMP members in Ohio and Pennsylvania. At this time, four sites are fully commissioned and operational, eight sites are under various stages of construction, and two sites are still in the development stage.
AMP/PowerSecure Behind The Meter Peaking Project Phase 1 Sites
(Updated March 2022)
| | |
| --- | --- |
| Operational | Under Construction |
| Niles OH | Blakely PA |
| Wadsworth OH (Site 1) | Hatfield PA |
| Monroeville OH | Weatherly PA |
| Woodville OH | Schuylkill Haven PA |
|  Ephrata PA | Mifflinburg PA |
|  Perkasie PA | Quakertown PA |
|  Girard PA | Wadsworth OH (Site 2) |
WJ (Willey) Sandell, AMP's Vice President of Generation Operations & Development, is managing this comprehensive distributed generation program, responsible for oversight of member site evaluation and selection as well as construction and operations.Additional AMP members have expressed interest in participating in Phase 2 as AMP prepares to get the expanded program underway.
"AMP members often ask about the environmental impact of operating Tier 4 Final generators," Sandell said. "PowerSecure's units are factory certified to meet the U.S. Environmental Protection Agency's Tier 4 Final standards."
According to PowerSecure, emissions for Tier 4 Final are considerably lower than natural gas engines on five critical pollutants, including NOx, CO, HC, Formaldehyde, and Methane. PM emissions are slightly higher; however, ultrafine particulates are about the same. The total CO2 equivalent emissions are within 5% of each other. Therefore, the Tier 4 Final generator is cleaner than a natural gas engine in many cases.
For this program, AMP owns the generators, leases the land from the community, and manages the interconnection process with the local distribution system and the incumbent transmission utility.  PowerSecure manages the construction, including any sub-contractors. AMP serves as the primary dispatcher of the units, with PowerSecure as the backup dispatcher. PowerSecure monitors each system 24/7/365 and runs testing on each unit once per month to run system diagnostics, sending alerts to AMP and to the host utility if they notice a problem. Utility employees receive maintenance and troubleshooting training for the generators, with PowerSecure able to send local crews to a site whenever needed.
Throughout the site evaluation process, the approvals process, and on to construction and operation, the AMP and PowerSecure teams work closely together. "We have maintained a strong relationship with PowerSecure through every step of this process," Sandell said. "PowerSecure provides a fix-priced solution with state-of-the art, plug-and-play equipment and system monitoring and service. But above all, PowerSecure understands public power systems and the communities they serve. They are helpful through the long approvals process and provide a product that offers both peak demand savings and emergency backup power at a time when cost and resiliency are of paramount concern to citizens."
Robbie Tugwell, PowerSecure's Vice President of Public Utilities, said, "We are proud of our work with AMP and all we are accomplishing together. Yet it's vital to note that PowerSecure can develop distributed generation programs with joint action agencies of any size. Our turnkey approach is adaptable and scalable. Our distributed generation and microgrid solutions are suitable for all community-owned utilities."
In addition to partnering with joint action agencies, PowerSecure works directly with utilities to provide their commercial and industrial accounts as well as entire communities with peak demand savings and emergency backup power, to help communities and businesses alike prepare for the unexpected.
About American Municipal Power, Inc. (AMP)

A co-owner of Hometown Connections, AMP is the nonprofit wholesale power supplier and services provider for 134 members in the states of Ohio, Pennsylvania, Michigan, Virginia, Kentucky, West Virginia, Indiana, Maryland, and Delaware. Combined, these public utilities serve more than 650,000 customers. AMP members receive their power supply from a diversified resource mix that includes wholesale power purchases through AMP and the open market and energy produced at AMP and member-owned generating facilities utilizing fossil fuel, hydroelectric, solar, wind and other renewable resources.
About PowerSecure
A trusted partner of Hometown Connections, PowerSecure is a leading provider of innovative energy solutions to electric utilities and their industrial, institutional, and commercial customers. The company is a nationwide market leader in developing distributed power systems and the integration of distributed energy resources in a sophisticated microgrid. PowerSecure has installed and controls over 2 gigawatts (GW) of distributed generation systems across the U.S.
About Hometown Connections, Inc.
Hometown Connections, Inc.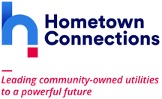 is a national, non-profit utility services organization specializing in the unique challenges of community-owned utilities. The products and services offered through Hometown Connections include operations and management solutions from vendor partners who understand and are trusted by public utilities. In addition, Hometown Connections provides consulting support in the areas of strategy, board governance, managing risk, cybersecurity, customer care, finance, technology planning, and leadership & employee development.
For More Information
Paul H. Beckhusen
Senior Vice President Power Supply & Energy Marketing
American Municipal Power, Inc.
614-540-6910 (direct)
517-617-7286 (cell)
pbeckhusen@amppartners.org
Robert D. Tugwell, CEM
Vice President Public Utilities
PowerSecure, Inc.
919-632-9010
rtugwell@powersecure.com