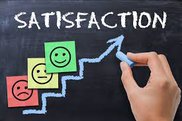 Now more than ever, it's imperative for your utility to stay close to your customers. Hometown Connections, the services organization dedicated to enhancing the performance of community-owned utilities, has partnered with GreatBlue Research to create a special offer for you to learn first hand what your customers need and expect. For a low fee, you can send a link to your customers to fill out a brief online survey.
Off-the-Shelf Digital Survey
This survey link is ready and may be distributed right away. You may use all of your communication methods—email, social media, bill insert, website, and/or text message—to distribute the survey link. Your customers will access a survey web page featuring your logo. To keep your costs low, this is a one-size-fits-all survey for which GreatBlue has thoughtfully selected questions based on extensive experience in the utility industry. The study will help you factor in customer opinion research when making utility management decisions.
The ready-to-go customer survey from GreatBlue contains 20 questions and covers:
Customer satisfaction—gauges overall satisfaction with the utility/customer service/field service reps
Communication preferences—all types of methods from email, bill insert, website, social media, etc.
#1 Priority for Utility—assesses trends in the industry and other highlights such as electric vehicles, solar, time-of-use rates, etc.
COVID—assesses how satisfied customers are with the utility during COVID, how effective their communications were, customers' ability to pay their bill during COVID and what they anticipate in the foreseeable future, increase in energy consumption, and how can the utility help moving forward (e.g., financial assistance, provide tips to save energy, programs available, etc.)
Demographics—age, gender, household income
Ready for Utilities To Forward To Customers / Adaptable For JAAs
While designed for individual municipal utilities to send to their residential/commercial/industrial customers, this can be adapted for joint action agencies to distribute as a member survey. Please contact GreatBlue for more information:
Web Portal For Reviewing Results
You will be given access to a web portal to track the survey results online in real-time. Use the data to drive decision making, take action, and implement  plans and initiatives for 2021 and beyond.
Study by Public Power's Premier Research Firm
The market research partner of Hometown Connections and the leading customer opinion firm serving community-owned utilities, GreatBlue is a full-service market research company that has worked with hundreds of municipal utilities across the U.S.

Contact Us Now To Schedule Your Survey
To take advantage of an off-the-shelf digital customer survey, send an email to info@hometownconnections.com. We will send you the survey questions.