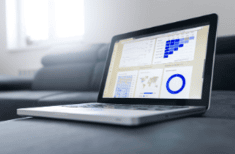 The industry's leading provider of customer research for community-owned utilities, GreatBlue Research is sharing insights into the world of market research. In excerpts below from the February 2020 issue of GreatBlue Point of View, you will learn about common "sampling" options and why digital surveys are popular.
GreatBlue Point of View
February 2020 issue
Sampling
Sampling, by definition, is a statistical analysis tool used to analyze a subset of a larger data set.  You can think of it as a representative snapshot of a larger population.
Sampling comes with many advantages. Besides not having to conduct a study with the entire population, sampling allows us to gather insights in a cost-effective, time efficient manner. Additionally, different sample sizes come with different advantages. Smaller samples allow for quicker analysis turnarounds while larger sample sizes provide increased accuracy. Statistically, the larger sample size, the smaller margin of error, and vice versa.
The type of sampling utilized often depends on the data set and the goals and objectives of a research study. The most common types of sampling options  include:
Random Sampling: Software is utilized to randomly select subjects from the whole population.
Stratified Sampling: Smaller sets of data are created from the original data set based on a common factor (i.e. hair color), and samples are randomly collected from each group.
Cluster Sampling: The larger data set is divided up into subsets (clusters), then a random sampling of clusters is analyzed.
Systematic Sampling: A sample is created in which an interval is used to extract data from the larger population. For example, if using an Excel spreadsheet, setting an interval of every ten rows to extract data would be systematic sampling.
Digital Surveys
Digital surveys are currently one of the most common methods for collecting data. The reasoning behind this is largely due to the cost efficient nature and ability to collect large quantities of data in a short time period. Digital surveys can be sent to a large number of participants across a wide range of geographic areas and locations and can be conducted and processed quickly. Top advantages of the digital survey methodology include:
Ease of Data Collection: Digital surveys can be distributed to large numbers of potential respondents instantly. The survey can be dispersed and completed much faster, especially if there is an incentive for completion.
Cost: Traditional survey methods are more time and labor intensive and expensive. Digital surveys, on the other hand, are much less labor intensive and, therefore, are less expensive.
Response Rates: In a world where everyone is always on the go, a digital survey allows the respondent to complete the survey on their own time. Additionally, digital surveys allow for total anonymity which alleviates concerns over privacy.
Design Freedom: Digital surveys allow clients to have a greater degree of control over their survey design. Logic, skip patterns, visuals, and question layout can be edited quickly and are completely customizable.
About GreatBlue
A full-service market research firm using quantitative and qualitative research methodologies, GreatBlue Research studies customer perception and satisfaction, employee satisfaction, product awareness/interest, market visibility/needs assessment, and marketing effectiveness. Utilities receive statistically reliable data with thoughtful, concise insights and detailed recommendations. GreatBlue is a leader in tracking customer opinion data across the public power sector, able to show individual utilities how they compare to peer organizations nationwide.

For more information on GreatBlue's market research solutions for public power, send an email to info@hometownconnections.com.