South River Electric Membership Corporation and North Carolina's Electric Cooperatives, in partnership with Butler Farms,  recently celebrated the completion of a first-of-its-kind biogas microgrid. PowerSecure, selected by project owners to engineer, construct and design components of the microgrid, participated in the celebration event.
Butler Farms is a sustainability-focused hog farm in rural Lillington, North Carolina. To reduce odor, Butler Farms covered its waste lagoons and began capturing methane gas, or biogas, to use as fuel to generate renewable energy. The Butler Farms microgrid incorporates resources owned by the farm with components owned by NCEMC to establish a unique partnership and energy solution for the farm and rural region. The microgrid integrates solar generation, a diesel generator, renewable biogas, a controller and energy storage in the form of lithium-ion batteries.
The microgrid will be used to power the farm and nearby homes. It is capable of operating on its own, or it can remain connected to the main grid and supplement conventional sources of electricity. The innovative energy system will provide a reliable and resilient source of power to the farm and neighboring community.
PowerSecure designed and engineered a custom turnkey energy storage and controls solution for the microgrid. The custom controller is a key component of the system and will be used to provide backup generation during anticipated and unanticipated events. The custom controller will allow the cooperatives to initiate the microgrid, as well as automatically isolate the farm from the larger electric grid distribution system.
According to North Carolina's electric cooperatives, "The microgrid provides an opportunity to test the integration of new grid resources and technologies and serves as a case study for how agriculture and electric utilities—two of North Carolina's most important industries—can work together to enhance the state's rural communities."
Driven by service and inspired by innovation, North Carolina's electric cooperatives are building a brighter energy future for 2.5 million North Carolinians. Beyond providing electricity, each of the 26 not-for-profit cooperatives is investing in their communities and delivering new energy solutions to improve quality of life for co-op members in 93 of North Carolina's 100 counties.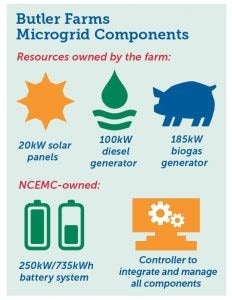 South River EMC is a locally-owned and operated electric cooperative, which provides electric service to 43,000 homes, farms and businesses in parts of Harnett, Cumberland, Sampson, Johnston and Bladen counties in central North Carolina.
PowerSecure markets its products and services to public power utilities in partnership with Hometown Connections, the national non-profit utility services organization offering public power utilities guidance and access to quality products/services from a trusted entity with public power's best interests in mind.
PowerSecure, a Southern Company subsidiary, is a leading provider of innovative energy solutions to electric utilities and their industrial, institutional, and commercial customers. PowerSecure provides energy solutions in the following areas: distributed generation, energy storage and renewables, energy efficiency and utility infrastructure. The company is a pioneer in developing distributed power systems and the integration of distributed energy resources in a sophisticated microgrid. PowerSecure has installed and controls over 1,500 megawatts (MW) of distributed generation systems across the U.S.