For about 8 hours on December 11, 2021, wind gusts of up to 70 MPH knocked out power for nearly 70,000 FirstEnergy customers in Northern Ohio. But not for the Village of Woodville. When the Village lost its power supply feed from FirstEnergy, electric department employees fired up their PowerSecure clean diesel generation microgrid system and restored power to the entire community of 2,200 residents.
The Village of Woodville owns and operates its electric distribution system, purchasing wholesale power through the American Municipal Power, Inc. (AMP) joint action agency. The Village connects to the regional electric grid through FirstEnergy, an investor-owned utility. When the December 11 windstorm knocked out the FirstEnergy power transmission, the Village fired up AMP's PowerSecure Tier 4 Final PowerBlock distributed generation system that sits in the Village's substation facility. The Village restored electric service to each if its citizens and businesses while the surrounding FirstEnergy customers stayed dark until late that Saturday evening.
Local Generation for Lower Costs & Emergency Backup
The Village of Woodville obtained the PowerSecure microgrid by participating in AMP's Behind the Meter Peaking Project. The project is integrating PowerSecure generation systems into 14 of AMP's member utilities in Ohio and Pennsylvania, providing benefits to nearly 30 communities.
The primary purpose of the AMP project is to provide local generation during peak demand hours to reduce capacity and transmission costs. The units also provide emergency backup power if the grid goes down. AMP owns the PowerSecure systems, finances their construction, and dispatches the resources. AMP evaluates members' systems and power profiles to see if potential  sites and power supply requirements make them suitable for the program. Once sites are approved by the Project Participants, PowerSecure prepares the sites, designs the installation, manages construction, and maintains and remotely monitors the units. The units can run for 24 hours before requiring a refill of the clean diesel fuel, with PowerSecure dispatching refueling trucks on demand.
On December 11, when the FirstEnergy feed cut off, Village of Woodville employees put the local distribution system in "island mode" by opening the circuit breakers that connect its substation to the regional grid and then starting the PowerSecure generators. Under normal conditions, this process takes about ten minutes to restore power. But due to a technical problem during the windstorm, it took about two hours to turn the community's power back on. This process is manual and cannot be automated because each event requires a unique understanding of that day's system requirements, the operating characteristics of the generation sources, and how to seamlessly interface with the electric grid.
"We were very pleased with the performance of the PowerSecure microgrid system and our electric department personnel during the December 11 windstorm," said Village Administrator Keith Kruse. "The microgrid provides tangible economic and safety benefits to our community. Through the AMP program, our village is keeping its wholesale power supply costs in check and avoiding the inconvenience and potential health and other harms of long power outages."
About American Municipal Power, Inc. (AMP)
A co-owner of Hometown Connections, AMP is the nonprofit wholesale power supplier and services provider for 134 members in the states of Ohio, Pennsylvania, Michigan, Virginia, Kentucky, West Virginia, Indiana, Maryland, and Delaware. Combined, these public utilities serve more than 650,000 customers. AMP members receive their power supply from a diversified resource mix that includes wholesale power purchases through AMP and the open market and energy produced at AMP and member-owned generating facilities utilizing fossil fuel, hydroelectric, solar, wind and other renewable resources.
About PowerSecure, Inc.
A trusted partner of Hometown Connections, PowerSecure is a leading provider of innovative energy solutions to electric utilities and their industrial, institutional, and commercial customers. The company is a nationwide market leader in developing distributed power systems and the integration of distributed energy resources in a sophisticated microgrid. PowerSecure has installed and controls over 2 gigawatts (GW) of distributed generation systems across the U.S.
About Hometown Connections, Inc.
Hometown Connections, Inc.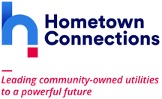 is a national, non-profit utility services organization specializing in the unique challenges of community-owned utilities. The products and services offered through Hometown Connections include operations and management solutions from vendor partners who understand and are trusted by public utilities. In addition, Hometown Connections provides consulting support in the areas of strategy, board governance, managing risk, cybersecurity, customer care, finance, technology planning, and leadership & employee development.
For More Information
WJ (Willey) Sandell
Vice President of Generation Operations and Development
American Municipal Power, Inc. (AMP)
614-3540-6382 (office)
614-578-4551 (mobile)
wsandell@amppartners.org
Robert D. Tugwell, CEM
Vice President Public Utilities
PowerSecure, Inc.
919-632-9010
rtugwell@powersecure.com
Keith Kruse
Village Administrator
Village of Woodville, OH
419-849-3031
keith.kruse@woodville.net